Proclamations


Printer-friendly
These are statements to speak out boldly, to declare, to pray. They are based on scripture. Like all matters of faith, they only have power and meaning if you truly believe what you say (Mk 11:22-24).
General:
God loves me.
God cares as much for me as for any other person. (Acts 10:34)
Nothing is too hard for God. (Ge 18:14)
Nothing is impossible with God. (Lk 1:37)
I am the righteousness of God in Christ Jesus. (2 Co 5:21)
I can do all things through Him who strengthens me. (Phil 4:13)
In the name of Jesus, I have overcome the world. (John 16:33)
In Jesus Christ I am a new creation. The old has gone, the new has come. (2 Co 5:17)
I trust in the Lord and not in my own understanding. (Pr 3:5)
God hears my prayers and answers them. (1 John 5:14-15)
Healing:
God wants me well.
By Jesus stripes I have been healed. (Isaiah 53:5; 1 Pe 2:24)
God forgives all my sins and heals all my diseases. (Psalm 103:3)
Jesus took all my diseases and pains upon himself and overcame them.
(Is 53:4-5)
You are the God that heals me. (Ex 15:26)
God sent His word and healed me. (Ps 107:20)
Jesus is willing to heal me. (Mt 8:2-3; He 13:8, Acts 10:34)
God sent Jesus and healed me. (Ps 107:20)
Body, you have been healed by the stripes of Jesus. You are well.
(Is 53:5)
In Jesus name, any harmful germ, virus, or bacteria attacking my body, be gone. (Mk 11:23)
Not thinking highly of yourself, fearing the Lord, and running away from evil is nourishment to your bones and health to your whole body.
(Pr 3:7-8)
The very words of the Bible are life and health to me. (Pr 4:20-22)
In Jesus name, I can lay hands on the sick and they will be healed.
(Mark 16:16-18)

Freedom:
Jesus took all curses upon himself so that I do not have to live under any. I am free from curses. (Gal 3:13)
In Jesus name I can cast out demons. (Mark 16:16-18)
I take all thoughts captive to make them obedient to Christ Jesus.
(2 Co 10:5)
No weapon formed against me shall prosper, and every tongue that rises up against me in judgment I shall condemn. (Is 54:17)

Godís provision and care for us:
I am a son of God and heir to all the promises. (Gal 3:26,29)
I am heir to all the promises God made to Abraham. (Gal 3:14)
My God provides all my needs according to His glorious riches in Christ Jesus. (Phil 4:19)
Jesus became poor that I might be rich. (2 Co 8:9)
There is only one way to God, and that is through His son, Jesus Christ. (John 14:6)
Jesus suffered my shame on the cross, so that I do not have to bear any.
God is a worker of miracles. (Ps 77:14)
Peace in life:
I am not anxious for anything. In everything by prayer and petition I make my requests known to God, and the peace of God, which passes all understanding, guards my heart and my mind. (Phil 4:6-7)
Shalom. Peace, I say, to my body and my life. Shalom. Total peace.
I have been reconciled to God in all ways through Jesus Christ.
(2 Co 5:19)
I have peace with God through Jesus Christ.
Copyright © 2005 by John Newlin Ministries, Inc.

For additional teachings, visit our store and
check out the "Your Authority in Christ!" CD by John Newlin.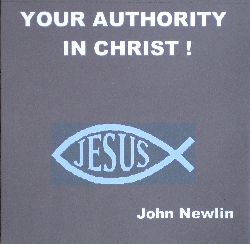 | | | |
| --- | --- | --- |
| | How are we to live healthy and victorious lives in this difficult time in which we find ourselves? First, we need to know Jesus and to keep our eyes on him. Next? We need to know all he has done for us and what our authority is in him. Believers in Jesus Christ are Godís workmanship, created in advance in Christ Jesus to do good works which he prepared in advance for us to do. If you are such a believer, God chose you before the foundation of the world. He predestined you to be adopted in Jesus Christ as his child. Do you know all that? This CD reveals the astounding facts of who you are in Christ and the extraordinary authority you have in him. Donít be destroyed by lack of knowledge. | Keys to Receiving Healing |